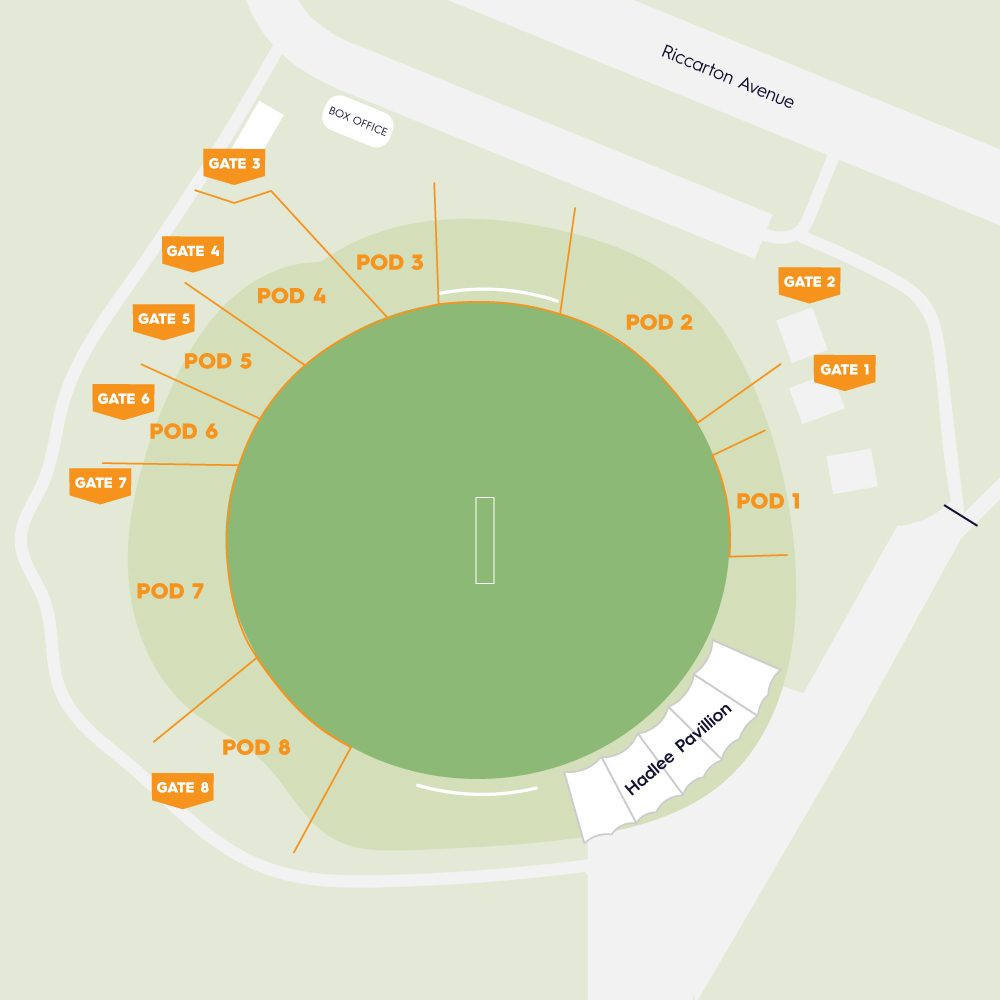 Spectator Pods Confirmed
New Zealand Cricket have confirmed the upcoming test matches against South Africa at Hagley Oval will be played in front of fans, albeit, limited numbers. The Hagley Oval embankment will be split into 8 spectator zones each with it's own gates, toilets and food pick up areas for mobile ordering. See below for more information. 
Match Day will look a little different as both BLACKCAPS v South Africa Test matches will be held under the Red settings of the Covid-19 Protection Framework system.
Fans will be split into zones of 100 people, with no movement between other zones possible. We recommend buying tickets for your friends and/or family at the same time, to ensure you're allocated to the same zone. You will not be able to move between, or to other pods after purchase.
You can bring in food & beverage as per the usual event terms & conditions.  Food & beverage can also be purchased at the ground using Hagley Oval's mobile ordering system Mr Yum through scanning the QR codes on display in each zone.
General Admission tickets will indicate which gate to enter, as each zone will have its own dedicated gate.  At the gate, you will be required to show your My Vaccine Pass, have your bag checked by security, and then have your ticket scanned.
You will be required to scan-in once arriving at your zone using the displayed QR codes.
There are portable toilet facilities in each zone.
Masks are strongly encouraged when you're not consuming food & beverage, and social distancing must be maintained.
No Test Match Passes are available for these Tests.
All previously purchased tickets should now have been refunded. Please contact ticketek if you have not had a refund. All ticket holders who previously purchased tickets for this match will have an opportunity to re purchase tickets within a priority window starting at 2pm on Friday 11th Feb – 12pm, Monday 14th Feb. You will receive an email from Ticketek tomorrow with a unique code to use to access the priority window.
Once the priority window is closed tickets may be opened up to further buyers. 
For any questions about ticketing please contact Ticketek.