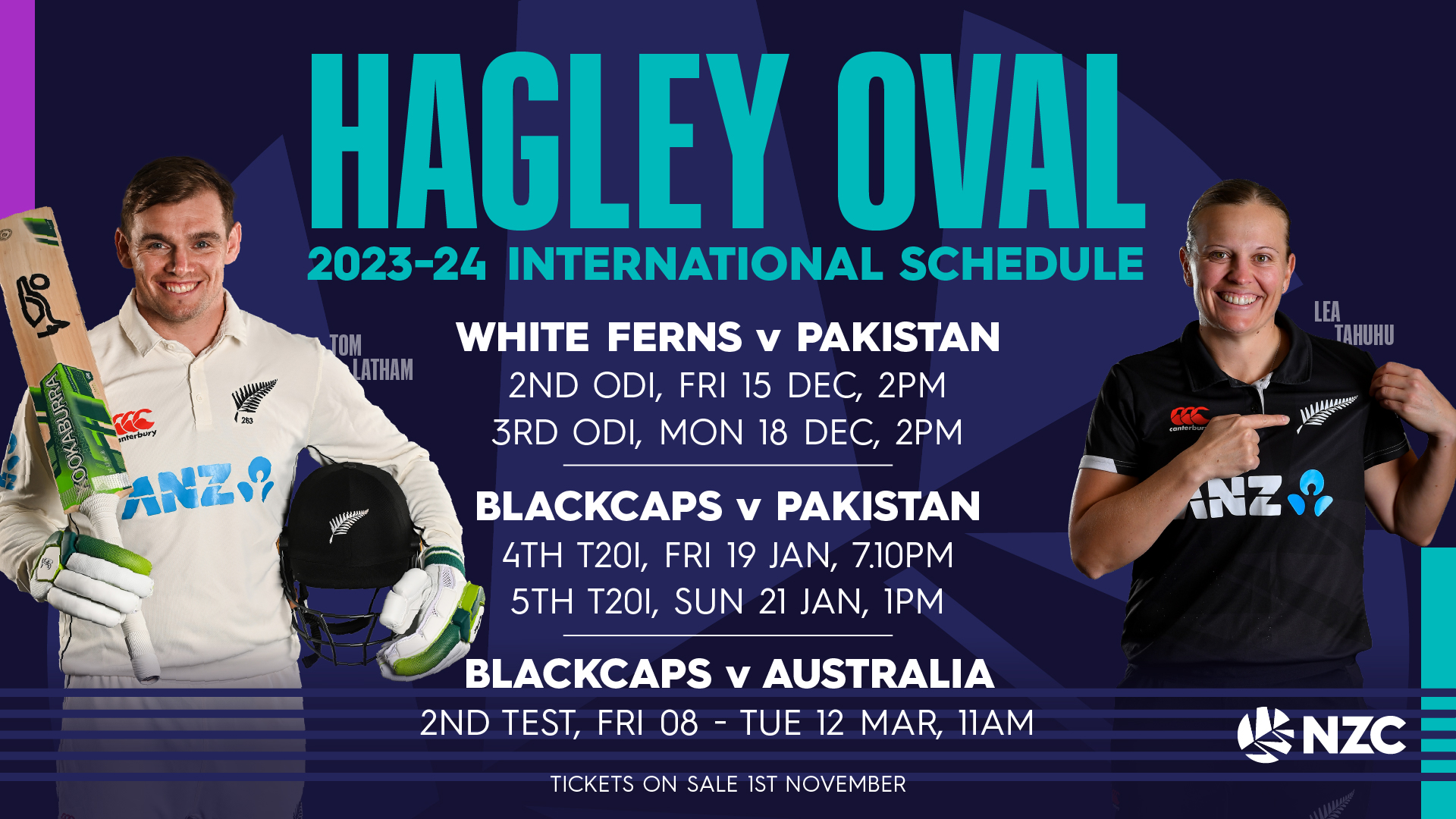 Hagley Oval set for a bumper summer season
18 July 2023
Hagley Oval is set for another incredible International summer season when they host the White Ferns vs Pakistan in 2 x ODI's before Christmas ahead of Blackcaps taking on Pakistan in the T20 series followed by the much anticipated Blackcaps vs Australia Test Match.
We are beyond excited for the season and can't wait to have you join us for this bumper season.
See the NZC media release for more information.
A Home International Summer Like None Before
Test series against South Africa and Australia for the BLACKCAPS, white ball series against Pakistan and England for the WHITE FERNS: these are just some of the highlights of an action-packed 2023-24 home international summer for Kiwi cricket fans.
The first New Zealand international summer to be screened live on free-to-air TVNZ in 24 years will comprise a potential 48 days of cricket, played across 10 venues from Auckland in the north to Dunedin in the south.
The BLACKCAPS, who have never won a Test series against South Africa home or away, will square off against the Proteas in Tauranga and Hamilton, ahead of hosting World Test Champions Australia for the first time since 2016, in Wellington and Christchurch.
The WHITE FERNS will return from their away series in South Africa to host Pakistan in T20I and ODI series, after which they will play five T20Is and three ODIs against England – who will also bring their A team for white ball series against the New Zealand A team.
Beginning at the start of December when the Pakistan women arrive and ending at the start of April when the England women depart, the home summer will boast 32 internationals, all screened live and free-to-air on TVNZ platforms, and broadcast live on SENZ radio.
On top of facing South Africa and Australia in the Test arena, the BLACKCAPS will also play Bangladesh in ODI and T20 series in December, Pakistan in a five match T20 series in January, before taking on Australia in three T20Is, two of which will be played at Eden Park.
A feature of the home international season is the scheduling of no fewer than 10 double-headers, as New Zealand Cricket attempts to address both the needs of different audiences and enhance the efficiency of its playing programme in an era of climate change awareness.
NZC chief executive David White said playing consecutive games at the same venue allowed organisers to cater for different tastes in terms of patronage, as well as reduce the amount of air travel and transport for teams, officials, broadcasters, and fans.
"In terms of venues with lights, we've been able to schedule several back-to-back night matches and day matches to ensure good opportunities for both families and adult patrons, respectively, which we think is good for the game," he said.
"It's a strategy that also complements our need to prioritise energy efficiency – and to just do the right thing as a sports organisation, given the challenges we're facing from climate change these days."
Mr White said there was already a great sense of anticipation over the upcoming home summer programme, particularly with all games being screened live and free-to-air and the enormous exposure for cricket, as a result.