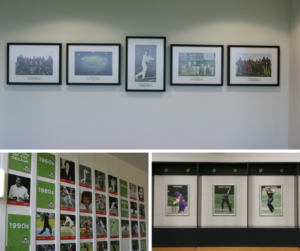 Throughout the short history of Hagley Pavilion we have endeavoured to profile the history of success and achievement of Canterbury Cricket and our cricketers across the years.
From the early days through to some of our most recent and memorable moments we have placed a series of photographs documenting the journey and development of the game in our region. We also look to celebrate some of our provinces best players over the decades starting from the 1880's through to the 2000's.
While Hagley Oval in its current form is a very recent development our Honours Boards reflect the history of our predecessor Lancaster Park along with the Honours Boards for our Canterbury Mens and Womens teams.
A series of beautiful photographs grace the Home and Visiting Player viewing lounges and the home changing rooms is beautifully presented with photographs of leading Canterbury players (past and present) in each of the individual player bays.
We are proud to have such a rich history of cricket represented so gracefully within the Hadlee Pavilion.