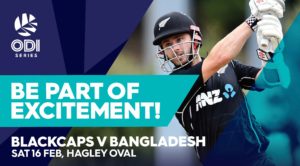 With the Bangladesh international team now in New Zealand to play an ODI & Test series, Hagley Oval will play host to the 2nd ODI & the 3rd Test match in March 2019.
After a busy Summer that started against Pakistan in the UAE in late October 2018 it will be the last opportunity to see the Blackcaps at Hagley Oval before they head to the 2019 ICC Cricket World Cup.
Tickets to the ODI at Hagley Oval can be purchased HERE.